Numerous instances of Salesforce projects encountering setbacks have been attributed to misallocated licenses and a dearth of comprehension, resulting in excessive expenditure. These situations arise from a lack of proficiency in optimizing licenses. However, there is a solution within reach. Various Salesforce licenses cater to distinct usage tiers and specific use scenarios, each bearing its own advantages and drawbacks. The selection hinges on the company's specific objectives at any given juncture.
Thankfully, there's also no license lock-in, and you can always upgrade to a higher license and Salesforce Edition depending on your changing requirements as a growing business.
STEPS FOR CHOOSING THE RIGHT LICENSES
Strategic License Selection
In contrast to the notion of "more is better," indiscriminate procurement of Salesforce Enterprise Edition can lead to underutilization of its extensive features. It's essential to align your license selection with your specific needs. Begin with a modest number of licenses, allowing for gradual expansion. This approach prevents unnecessary expenditure on licenses that may not be fully leveraged, while also preventing operational bottlenecks.
Embrace a Modular Approach
Adopting a modular licensing strategy enables the addition of licenses as new departments and team members come on board. Salesforce's flexible pricing model facilitates this approach, allowing for a more phased investment. This not only grants pertinent teams access to critical premium features but also defers upfront licensing costs, creating room for essential customization expenses.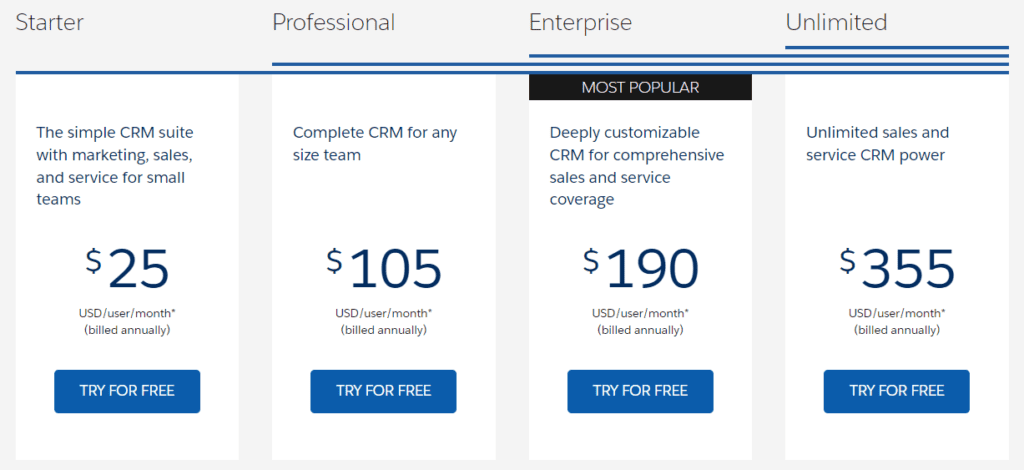 Understanding the diverse license tiers offered by Salesforce for each cloud, along with their associated capabilities, is crucial. This knowledge empowers teams to make informed decisions based on budget considerations. For example, in the Salesforce Sales Cloud, various editions cater to different needs:
Starter ($25): Comprehensive sales and support app access.
Professional ($105): Enhanced features, including lead registration, rules-based lead scoring, and collaborative forecasting.
Enterprise ($190): Workflow and Approval Automation in addition to Professional features.

Unlimited ($355):

24/7 Support plus Enterprise features.
Platform licenses, costing significantly less, can be a viable alternative for certain business needs. For instance:
Platform Starter ($25): Ideal for building custom apps with access to 10 custom objects.

Platform Plus ($100):

Extends Salesforce capabilities to every employee and department, with access to 110 custom objects.
By opting for Platform licenses, businesses can potentially save up to $1,500 per license annually in specific scenarios.
Proactive User Management
Regardless of the license, each user account is tied to a single login, with credentials non-transferable. However, "License Reduction" offers a workaround. By logging a case with this designation, deactivated users can be efficiently managed, eliminating the need for repetitive license reassignment. This method proves particularly beneficial for organizations with a large number of licenses, gradually reducing Salesforce licensing costs over time.
In conclusion, deciphering Salesforce License Pricing can be a complex task. However, with strategic practices and a thoughtful approach, organizations can effectively manage their expenses and ensure they get the most out of their Salesforce investment. At Tenetizer Technologies, we're dedicated to assisting you in optimizing your Salesforce licensing for maximum value. For personalized guidance and support in navigating Salesforce licensing, reach out to us at contact@tenetizer.com. Let's work together to make the most of your Salesforce investment!