In today's business world, utilizing the power of LinkedIn can significantly increase your outreach efforts. However, to truly unlock its potential, integrating LinkedIn with Salesforce, a robust CRM platform, is essential. This integration empowers businesses to efficiently target prospects, gather valuable insights, and automate sales activities. Let's cover the details of LinkedIn Salesforce integration to enhance your customer acquisition strategies.
Connect, Convert, Close: The Power of LinkedIn Salesforce Integration
LinkedIn, with over 722 million users, is a powerhouse for professional networking. Integrating it with Salesforce opens up a new realm of possibilities for businesses. This integration empowers sales teams to use LinkedIn Sales Navigator alongside with Salesforce, allowing them to target customers effectively and provide specialized services and products.
Benefits of Salesforce LinkedIn Integration:
Discover and Engage Prospects: Identify potential clients who are interested in your offerings.
Enhanced Customer Insights: Access valuable information from LinkedIn profiles for better understanding of your customers.
Personalized Outreach: Engage customers on a more personal level, leading to higher conversion rates.
Detailed Activity Tracking: Keep a record of all sales activities for improved follow-ups.
Unlocking the Power of LinkedIn Sales Navigator:
LinkedIn Sales Navigator is a pivotal tool for virtual selling. Its features seamlessly integrate with Salesforce, creating a unified platform for sales teams. Some key features include:
Lead Recommendations: Receive personalized suggestions for targeted accounts..
Advanced Search Capabilities: Enhance your search experience to find the right customers and partner.
Notes and Tags: Synchronize notes with your CRM for effective tracking.
Profile Views Tracking: Identify who has viewed your profile in the last 90 days.
InMail Messaging: Reach out to 500 million LinkedIn members without requiring a connection.
CRM Integration: Save lead and contact information automatically, improving your workflow.
Team Link: Connect with prospects by incorporating your organization's integrated network.
Effective Use of LinkedIn Data in Salesforce:
Integrating LinkedIn with Salesforce through Sales Navigator grants access to a wealth of LinkedIn data. Here's what you can achieve post-integration:
Sending LinkedIn InMails from Salesforce: Easily send InMails to your LinkedIn contacts directly from Salesforce, ensuring smooth communication.
Access Auto-Generated Lists of Salesforce Contacts: View all Salesforce lead and account contacts in one place, which simplifies lead management.
Search and View LinkedIn Accounts in Salesforce: Connect LinkedIn contacts to Salesforce records to gain access to detailed contact information.
Setting Up LinkedIn Sales Navigator Salesforce Integration:
Follow these steps to seamlessly integrate LinkedIn Sales Navigator with your Salesforce account:
Search for LinkedIn Sales Navigator Tool: Sign in to your Salesforce account, navigate the Quick Find search box, and enter "LinkedIn Sales Navigator."
Initiate the Integration: Select the LinkedIn Sales Navigator AppExchange Package and click "Install." To finish the installation, simply follow the prompts.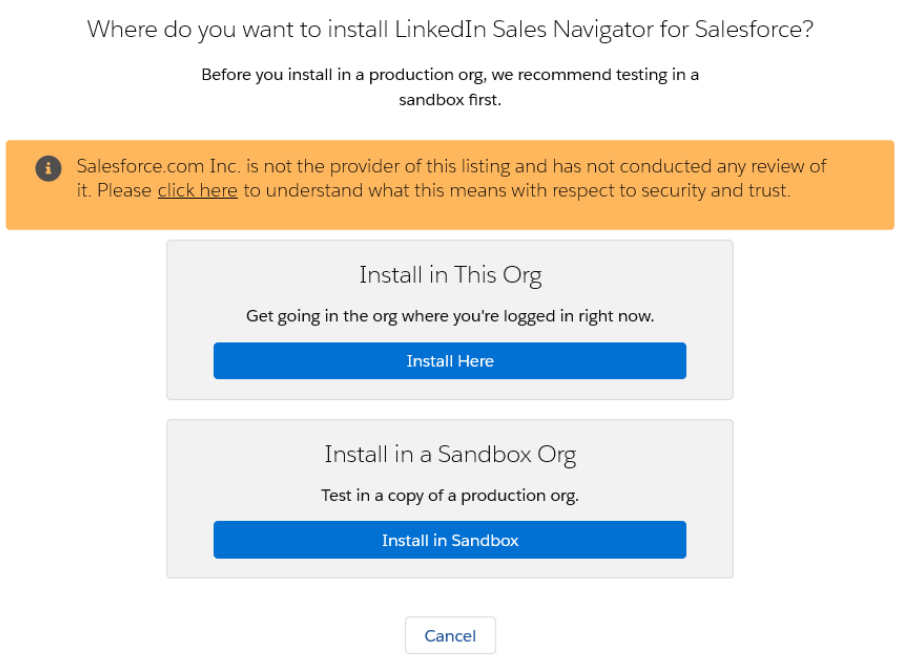 Set User Access Limit: To define user access permissions, select one of three options: Admin Only, All Users, or Specific Profiles.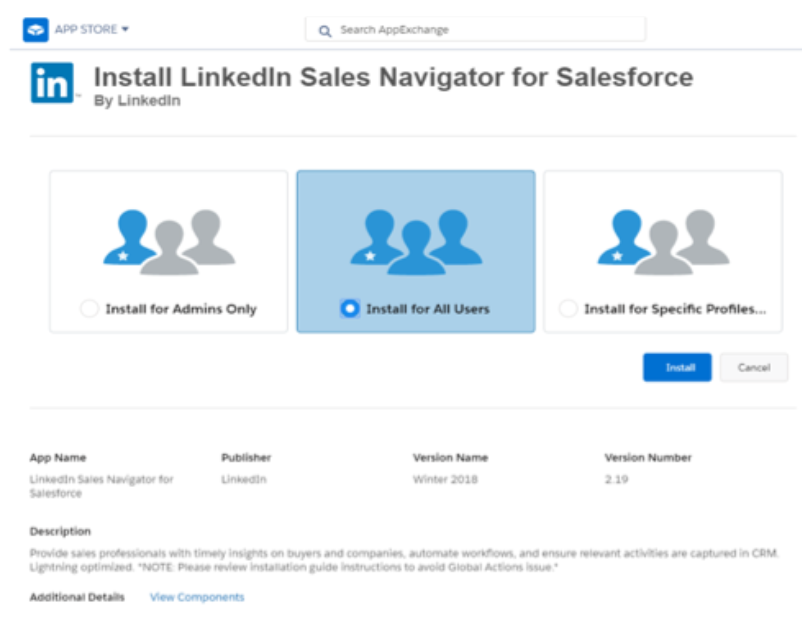 Complete and Configure the Installation: Once the installation is complete, configure the tool to align with your preferences.
The integration of LinkedIn with Salesforce, powered by Sales Navigator, revolutionizes customer relationship management. Gain complete visibility into LinkedIn activities, contacts, and posts, saving valuable time on mundane tasks. Elevate your outreach efforts and witness accelerated sales growth through this powerful integration. Contact us to unlock the full potential of LinkedIn and Salesforce today!