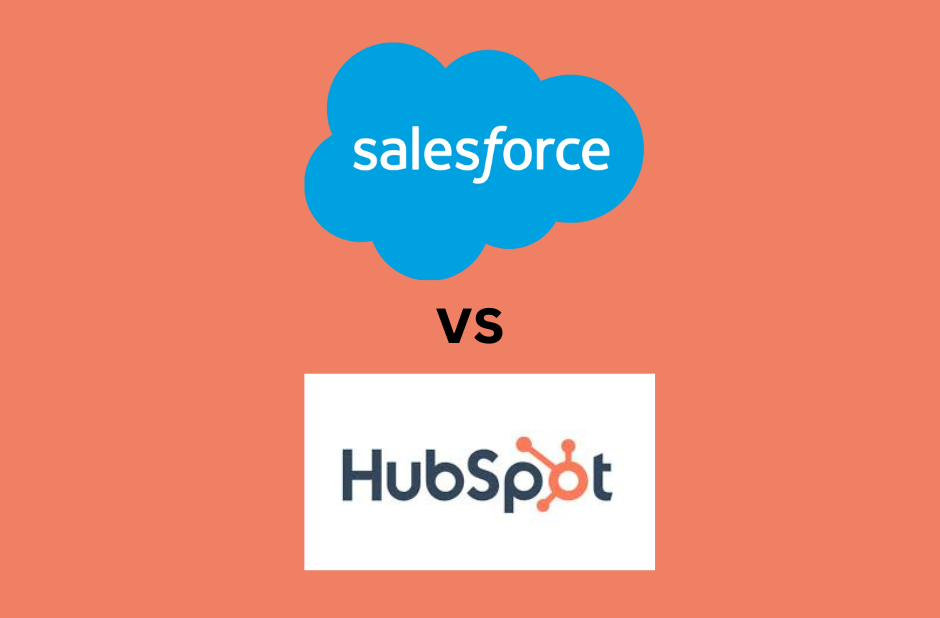 Choosing the right Customer Relationship Management (CRM) system is a critical decision for organizations of all sizes. CRMs are the foundation of customer interactions and internal workflows, impacting productivity and customer satisfaction. In this detailed Hubspot vs salesforce comparison, we'll look at the differences between Salesforce and HubSpot, two major CRM platforms, to help you make an informed decision for your company.
Understanding The Key Difference between Hubspot and salesforce
Renowned for its premium and highly scalable platform, Salesforce offers a full portfolio of cloud-based solutions that go beyond CRM. It caters to diverse business requirements, from sales and marketing to customer service and analytics. Salesforce provides an encompassing business ecosystem.
HubSpot shines with its user-friendly interface and an all-in-one approach to inbound marketing, sales, and customer service. It's known for its integrated tools for content marketing, lead generation, and customer engagement, making it an excellent choice for businesses looking for a unified solution.
Salesforce vs Hubspot pricing
While Salesforce offers a top-tier CRM experience, pricing considerations can be significant, especially for smaller businesses. Lower-tier plans may lack certain functionalities, potentially leading to higher costs as businesses scale up.
 HubSpot's pricing structure is transparent and caters to businesses of all sizes. They offer a free CRM with robust features, making it an attractive option for startups and small businesses. Their paid plans provide additional functionalities for more established businesses.
Salesforce boasts a polished user interface and a reputation for reliability. Its feature-rich platform is designed to cater to a wide range of business needs, making it well-suited for complex operations. From advanced reporting to customizable dashboards, Salesforce provides a sophisticated CRM experience.
HubSpot excels in user-friendliness and provides a seamless experience for users. It's known for its inbound marketing capabilities and offers an intuitive interface for managing leads, automating tasks, and tracking customer interactions.
Salesforce provides robust task management capabilities. However, it may not be the optimal choice for day-to-day task tracking and lacks dedicated native issue tracking modules.
HubSpot offers a clean and effective task management system. It's integrated with the CRM, allowing users to create, assign, and track tasks seamlessly. While it doesn't have dedicated issue tracking, it excels in managing tasks related to customer interactions.
Hubspot vs salesforce Scalability
With a vast array of cloud products and premium options, Salesforce is highly scalable and can accommodate businesses of all sizes. Its extensive suite of applications and integration options make it an ideal choice for growing enterprises.
HubSpot is designed to grow with businesses, offering scalable solutions that can adapt to evolving needs. While it may not have the same level of scalability as Salesforce for large enterprises, it provides ample room for growth for small to medium-sized businesses.
Salesforce offers robust automation capabilities, especially at the premium levels. It empowers businesses to automate processes, enhance workflows, and drive operational efficiency. However, lower-tier users may find the automation features to be less extensive.
HubSpot's automation tools are powerful and accessible. They allow businesses to automate marketing campaigns, lead nurturing, and customer communications. HubSpot's workflow automation is user-friendly and effective, making it a strong contender in this aspect.
The introduction of Einstein GPT has positioned Salesforce at the forefront of CRM AI. This generative AI product offers advanced capabilities, including content creation using natural language processing. It represents a significant leap forward in the integration of AI within CRM.
 HubSpot's AI capabilities are focused on personalization and optimization. It offers AI-powered features for lead scoring, email marketing, and content recommendations. While it may not have the same level of generative AI as Salesforce, it provides practical AI-driven insights to enhance user productivity.

In the end, the choice between Salesforce and HubSpot hinges on your specific business goals and operational requirements. By carefully evaluating the strengths and features of each platform, you can make an informed decision that lays the foundation for effective customer relationship management and business growth.
For further assistance or to discuss your specific CRM needs, don't hesitate to contact us today. Our expert team is ready to help you make the best choice for your business.